There she blows?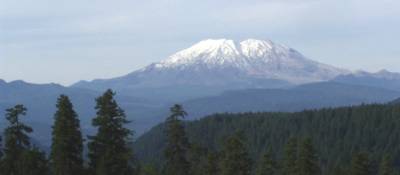 It is not all Twinkies, apple pie and hot dogs living in the Land of the Free you know? Most American's live with the continuous threat of surrounding natural catastrophe's. Just this summer the States has been hit by four hurricanes, a sizeable earthquake and now experts are saying that Mount St Helens has a 70% chance of erupting in the next few days.
The area around Mount St Helens has been sealed off after geologists noticed tiny quakes were happening three or four times a minute with larger ones with magnitudes of 3 to 3.3 occuring every three to four minutes. The volcano erupted almost 25 years ago killing 57 people and sending half a billion tons of ash into the air. It left the nearest major city, Portland in Oregon - 50 miles away - covered in a thick layer of ash (
buy gifts here!
). Keep an eye on what is happening here with
VolcanoCam
.
Meteorologists say the 2004 hurricane season has been among the most destructive of the past 100 years. Hurricane's
Charley, Frances, Ivan and Jeanne
have all swept through the East Coast of the United States causing 'insured' damage in excess of $30bn. Of course this is just the insured amount, in my experience people who live in trailers don't normally have
insurance
at the top of their priorities.
Between them, the four hurricanes have killed dozens and forced millions more to evacuate their homes across the Caribbean and three southern US states during the last six weeks and with the hurricane season still with 8 weeks to run, it probably ain't worth fixing that roof just yet.
For residents of
Southern California
, earthquakes are an unavoidable part of life. Californians don't only have sun, skiing, wine and a major economy (scarily managed by Governor,
Arnold Schwarzenegger
), they also live on the San Andreas Fault, which runs almost the entire length of California. The last major tremor was in 1994 (6.7) and there was a less damaging reminder
last week
(above) but ask anyone from LA and they will say
"we are due one."
Residents of Missouri, Illinois, Kentucky, Tennessee and Arkansas also face a possible threat from the earth moving and not always after dark. The
New Madrid seismic zone
runs across the five states where they border the Mississippi River. The last serious shake was in 1811 mind.
Because of their devastating potential, there is great interest in predicting the location and time of large earthquakes. Psychics, cranks and self-deluded people are always doing it but although a great deal is known about where earthquakes are likely, there is currently no reliable way to predict the days or months when an event will occur in any specific location. Just look where you're going when walking down the sidewalk.