Everton home. What was the score? 2-0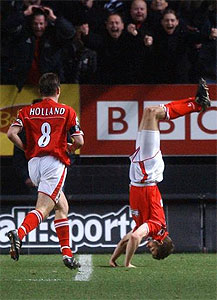 El Karkouri, da, da, da, da....
for anyone who didn't know how this song went then I reckon they do now as it echoed around The Valley (and my office) at the end of this afternoon's excellent win over Champions League hopeful's Everton.
After a very tight first 45 minutes the game opened up in the 2nd half but as the clock wound down it looked again as if we were going to fail to get a winning goal. Then up popped the increasingly popular El Camel to head home a perfectly controlled Konchesky cross in the 82nd minute to put us in front.
Then during the next attack, the big lump Duncan Ferguson swung his elbow into the face of Hreidarsson and was promptly sent off by Mike Riley.
A minute later the Herminator had recovered sufficiently enough to fire a left foot volley past substitute goalie Richard Wright to claim the 3 points. Cue a Hermann Hreidarsson song from the Covered End.
I listened to the BBC Radio London coverage with a very articulate Steve Brown providing interesting insight and it was great to hear the 27,000 Valley crowd get behind the team throughout the game.
Everton are a very tough side to beat and had only lost once away from home all season (to Chelsea) and conceded just 5 goals, so I have taken great heart from this result particularly as we have struggled against all of the other sides above us in the table so far this season.
For long periods the two sides negated each other in the middle of the pitch and the turning point seemed to be the introduction of Euell and Konchesky as Curbs tried to mix it up and create something different which the two substitutes eagerly did.
I spoke to my mate after the game and he was raving about Murphy and Young and even had a good word to say about Kishishev. My, that Christmas spirit must still be working but let me tell you that's a very nice way to start your day. By 11am my colleagues had no trouble spotting the Brit in the office with a huge grin on his face.
Reports from those that were there:
BBC Sport
;
Addicks Diary
;
Sky Sports
.