East Stand expansion given go ahead
A mate sent me a text earlier this evening (gone midnight at home) and told me that Greenwich Council have approved planning permission for the East Stand extension, which is wonderful news. The question next is when will the work start? Of course with our friends at the council pushing the decision back we have already lost close to 8 weeks.
The proposal included an upper tier on the East Stand and the construction of a new south-east quadrant. 4,000 more seats in total along with a new business information centre, a creche for a half-time lie down and college facilities, plus 30 executive boxes and the intriging 'living wall' below.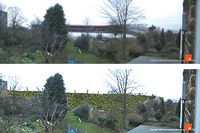 I'm one for lists and I was only thinking today that we have a few things outstanding. The East stand permission can now be ticked off, but with pre-season training days away there is still no sign of any further signings, in fact even the rumours have dropped off.
And apart from Feesh and Royce, no first team squad players have left either. Then there is the silence on the new kit. On the basis that they never appear in the club shop until Christmas,I guess they will be de rigeur around SE7 next summer.
But why the silence? In the past we voted online or picked one out of the programme. We have a contract with Joma, so what's the big deal? All to do with the new shirt sponsor no doubt and of course they need to go hand in hand. Something Far Eastern was being murmoured, but Curbs recent
comments
on last season's Chinese tour and our reluctance to go East again this summer may mean we have a backer nearer home. Fads anyone?
We should at least have another item crossed off the list tomorrow. Sky officially announce their televised games during the day, now they have consulted with the powers that be. I wonder if they will bear any relation to the ones 'leaked' earlier? Now, my mates next door neighbours dentist's assistant is married to a copper and he said we are at home to Man City first game of the season....